As the cradle of Western Civilization, Greece has a long and storied history. From the great philosophers of Athens to the powerful city-states of Sparta and Corinth, the country has been a major cultural force for millennia.
The Greek island of Crete is renowned for its stunning beaches, crystal-clear waters, and beautiful architecture. But it also has a great food and drinks scene, with plenty of traditional taverns to enjoy. The Mediterranean diet – characterized by lots of fresh fruits and vegetables, olive oil, and seafood – is considered one of the world's healthiest. And Taverna, the Greek version of the tavern, is the perfect place to enjoy a delicious meal. If you're planning a trip to Greece, be sure to add some of these 10 restaurants to your itinerary.
Prima Plora is a Mediterranean tavern located in the beautiful city of Rethymno, Crete. It offers the best of organic and Mediterranean cuisine, with a strong focus on seafood. Its location is perfect – right on the waterfront, with panoramic views of the sea. Try to get a table in the first row next to the ocean. It's the perfect place for a romantic dinner or for celebrating a special occasion. Prima Plora's experienced culinary team will ensure that you have an unforgettable dining experience!
Avli Tavern is a unique and beautiful setting for an evening out. Entering the 16th-century mansion, you can enjoy the charm of a traditional greek setting with all the modern amenities. The romantic courtyard garden is the perfect place to relax and enjoy the delicious aromas of local wines and fresh ingredients. The tavern offers a variety of both traditional and modern greek dishes.
Chrysostomos is a traditional Cretan cuisine restaurant located in the heart of the old town of Chania. Their award-winning dishes are cooked in a wood oven, using only the freshest local ingredients. They are passionate about their food and take great pride in serving authentic, homemade dishes that taste like your grandmother has cooked them!
Taverna to Bogazi is a small, family-run business in a small village by the sea. They offer a wide selection of traditional greek appetizers and entrees, perfect for any occasion. Their dishes are made with fresh, local ingredients, and we use traditional recipes passed down through generations. This Taverna's intimate setting and friendly service will make you feel at home.
Located in the town of Agios Nikolaos with a fantastic view of the city's lake. This modern, contemporary setting provides the perfect scenery for dinners with friends and family, while their delicious menu features authentic Greek cuisine as well as international dishes.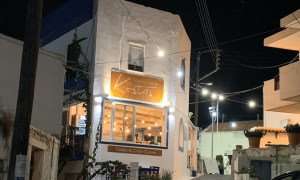 Kostas Tavern is a family-owned business that is located in the village of Piskopiano, on the outskirts of Heraklion. The tavern has been in operation since the nineties and is well known for its traditional Cretan cuisine and music. It is a bit away from the tourist hustle, but this is what makes it so special. It is very hospitable and offers a warm and casual environment. 
Rouga Tou Mpoula is a small business that offers high-quality services and products at favorable prices. This Taverna is frequented by tourists who appreciate the quality and affordability. The service is very welcoming, and the locals also like to come here for a good meal. 
Herb's Garden is a rooftop restaurant with a panoramic view over the city of Heraklion. It is perched atop a boutique hotel and is recommended for a romantic dinner. The food is locally sourced and seasonally inspired, with an emphasis on freshness and flavor. The menu changes regularly to reflect the latest culinary trends. The wine list features a wide range of old and new wines, with something to suit every palate. 
Ferryman Taverna is a casual yet elegant seafood restaurant located in the heart of Elounda. With unobstructed ocean views, you can relax and enjoy your meal while watching the ferries come and go from the harbor. The menu focuses on fresh, seasonal seafood dishes prepared according to traditional Greek recipies. Reservations are highly recommended, as tables near the sea fill up quickly.
Argentina is a seafood restaurant in the heart of the harbor town of Chania. The fish and seafood come from their fishery, so you can be sure that you're getting the freshest catch of the day. The terrace offers wonderful views of the harbor.
Taverns are a great way to get a taste of Crete's local food and culture. With their mouth-watering food and breathtaking views, the taverns listed in this article are a must-visit while in Crete. So go ahead and explore some of the best taverns the island offers!